It's Michael Ciallella, or Brady White aka "Santa to the Stars".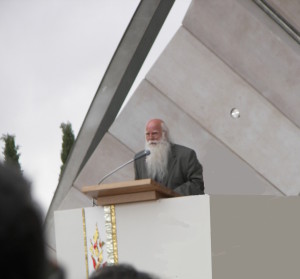 In the spring of five years ago, in San Giovanni Rotondo, along the avenue leading to the convent of Capuchin friars, I met a man with a flowing white beard. I had a strong feeling that I'd seen him somewhere before on the Internet or in the newspapers. Then a light was turned on in my mind.
– Excuse me. Are you Santa Claus? – I asked him straight blank.
– Oh, yes – he answered me, surprised and smiling.
I stumbled by pure chance into Michael Ciallella, Santa Claus "official" in the United States of America, which at Christmas in 2004 switched with George Walker Bush, the tree at groud zero in New York.
After a brief stint as an actor, television and magazines have taken over the American or portrayed countless times in the role of Santa Claus (His professional name is, Brady White aka Santa to the Stars) with his red dress edged in white, next to great Stars like Madonna, ZsaZsa Gabor, Silvester Stallone, John Travolta, Rene Russo, or in advertising for commercial companies as important, Coca-Cola, Cartier, Visa Card, Macy's, American Airlines and many others.
He is not the usual Santa Claus. In him there is something different that makes it so real as to lead children and adults to think that the beneficial character really exists.
Since he started his activities in 1969, his presence is requested at Charity events and other special occasions, he has appeared at The White House. He is a masterful showman.
The secrets of his success? His high stature, his natural snow white hair and beard, so beautiful to have been insured with Lloyds of London, sparkling blue eyes, the cheeks of a rose which transmits optimism and, above all, his contagious personality.
We meet again on 21 June 2009 on the occasion of the arrival of Pope Benedict XVI in San Giovanni Rotondo. While the pope celebrated Mass on the parvis of the Church of San Pio da Pietrelcina, Mr. Ciallella with his velvety voice rises to God, in English, the prayers of the faithful:
"For those who govern nations and peoples and for those responsible for social and political rights, may God, who is the fount of love and peace, direct their minds and hearts to the quest for the common good, and to refuse all solutions of violence , mindful of the priority of the right of human life above every other value. "
The churchyard of the Church of Saint Pio of Pietrelcina is populated by about thirty thousand faithful.
After the blessing, the ceasefire ceases to bad weather, which lasted for the duration of the ceremony. The clouds, which strangely had open for a while ', forming an halo sunlight on San Giovanni Rotondo, regrouped and you suddenly take on a dark color. A sudden thunder shakes the air and goes away muttering behind the mountains. Then a downpouring a general stampede.
We found shelter under the cover outside of the church designed by Renzo Piano, near the altar and the shrine of Padre Pio, with the lucky few of "special".
We are sorry for that final out of the program. We observe the faithful in difficulties. Umbrellas were used by little, their clothes were drenched shoes and feet were submerged by the flooding of water. A true open-air shower! The human tide procession moved towards the exit of the churchyard, was regulated by police and volunteers. Then the churchyard remains desert. We waited till it stopped raining to leave with the clothes dry.
I look around. A few meters further on there is also Mr. Ciallella. I want to talk.
The pitfall of the language creates some difficulties. We help with the gestures. I ask him if he pleased that I speak of him in my site.
He understood and nodded, but on one condition: that I spoke mainly of his love for Padre Pio.
I realized that he is a humble man and that this follows in the footsteps of the Father. He has no thirst for fame, which is used to, but want to be a witness to the serenity that Padre Pio is able to give to those who seek refuge in him.
Ciallella Michael was born in Providence, the state of Rhode Island from a family originally from Raviscanina, a village in the province of Caserta.
For nearly eight years of alternating periods of work with periods of residence in the city of San Pio and has to return several times a year in the future.
When he stays in America his thought is here in San Giovanni Rotondo. He then connects to the site via the Internet Teleradiopadrepio, pray for a more direct contact with the tomb of the saint.
From his words you can understand how important it is for the spiritual children of Padre Pio around the world, that the technology can achieve Teleradiopadrepio now also via satellite, as well as through the internet.
I asked Mr. Ciallella how his love for the Father came out. His answer in writing was immediate.
The witness of Michael Ciallella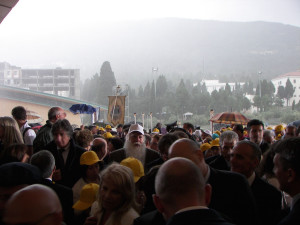 "The first time I heard the name Padre Pio was in May 2002, I was reading the local catholic paper and saw a small article that said "Italian monk with stigmata to be canonized…" I thought nothing of it.
One week later, at the very moment I turned on the television, I heard the words "Italian monk with stigmata to be canonized," I remembered the article I had read the week before and thought that it was just a coincidence, so I decided to watch the program. It was the life story of Padre Pio and I remember feeling something different inside of me, like my heart was being touched. I have since learned that nothing is a coincidence when it involves Padre Pio.
One week after seeing the television program, while waiting in a doctor's office I picked up a magazine to read. It was one of the big national magazines in America, maybe Time or Newsweek; anyway the page that I opened to was the story of Padre Pio. At that moment, I felt that same feeling as I did the week before, like someone or something was touching my heart. I know now that it was Padre Pio, he was calling me. After that, I had such an urge to find out more about Padre Pio and how could I get to San Giovanni Rotondo.
For six months I searched for information, asking priests, travel agents and anyone I came in contact with, but to no avail. Then in November 2002 I went to New York City for work. I took the train from Providence, Rhode Island, where I live, to Penn station in Manhattan and as I exited the train station, I saw St. John the Baptist Capuchin Friary and Church on 31st Street, which I had seen many times and often visited, but this time was different.
I went into St. John's to say a prayer and as I entered I saw a notice regarding a prayer garden being built in honor of Padre Pio. I couldn't believe it, it was like Padre Pio was taking me by the hand and leading me. I went to the church office and asked the Friar if he knew where San Giovanni Rotondo was and how I could get there. He knew everything; he told me I could fly to Rome, then take a train to Foggia and from there I could catch a bus to San Giovanni Rotondo.
I arrived in Italy on January 1, 2003; I took the train from Rome to Foggia but since it was New Year's Day the busses were not on the normal schedule and I had missed the last bus going to San Giovanni Rotondo. I was extremely tired from my long day of travel and I thought of spending the night in Foggia but something kept pushing me on. I decided to take a taxi. It was one of those dark winter night skies, there were few street lights and as we started to go up the winding mountain road, I thought I'd never get to San Giovanni Rotondo alive. My taxi driver was a nice enough man but I think he thought he was the famous Italian American race car driver, Mario Andretti… the darker it got and the windier the road got, the faster he drove.
Padre Pio and my guardian angel were surely with me that night; fore we arrived safely and in one piece in San Giovanni Rotondo. The taxi driver dropped me off right in front of Our Lady of Grace church, I didn't know where to go and no one was around me to ask for help or directions. Directly across the street from the church there was a hotel, so I went to see if they had any rooms available. Being the off season they had closed off part of the hotel so they had no rooms with heat but offered me a small, very small room in the closed off section. I took the room, dropped off my luggage and went straight to Our Lady of Grace church, arriving just in time for Mass and communion. I had such an overwhelming feeling of joy and peace in my heart; it was like Padre Pio was saying "welcome,Michael."
On January 2nd I spent the day in prayer and meditation, visiting the Antique Church, attending mass at the church of Santa Maria delle Grazie and praying at the tomb of Padre Pio. That night, I returned back to the tomb of Padre Pio for the rosary. The entire day I felt something special in my heart, I didn't know exactly what it was but I knew I had not had this feeling of true peace before.
On the 3rd of January, I was taking the afternoon bus back to Rome, so I went to mass in the morning at the church of Santa Maria delle Grazie. After mass a woman came up to me and asked if I spoke English, when I said yes, she took me to the English office. When I knocked on the door, I heard a voice say "avanti, avanti." Now I know "avanti" means "come in" in English but at the time, I spoke very little Italian and understood even less. I knocked again and I heard the voice saying loudly, "avanti! avanti!," so I opened the door and looked in. Sitting behind a desk covered with lots of envelopes was a little Capuchin Friar, when he looked up and saw me, he said "Babbo Natale!"
That little friar was Padre Ermelindo, the director of the English office and he is now one of my dearest friends. A young, beautiful Italian girl, named Tiziana, who is Padre Ermelindo's assistant, was also there that day. They both kept saying that I looked like "Babbo Natale," but I told them I did not understand. They told me "Babbo Natale" meant "Santa Claus," I laughed and told them that I made my living playing "Santa Claus. " Padre Ermelido and Tiziana spent time talking with me and showing me a video about the life of Padre Pio. Before I left the English Office, Padre Ermelindo blessed me with a blood stained glove worn by Padre Pio. Wow! I still remember the sensation of peace that I felt engulfing my whole spirit.
When I left San Giovanni Rotondo, I spent the next two weeks in Italy visiting Rome, Assisi and Florence but Padre Pio and San Giovanni Rotondo were never far from my thoughts. Even when I returned home to America and got into my daily routine, I could not stop thinking about Padre Pio.
I decided to return to "the land of Padre Pio" for Easter, spending about ten days in San Giovanni Rotondo and even taking a day trip with Padre Ermelindo to Pietrelcina, the birthplace of Padre Pio.
When I returned back again to America, I thought, ok! I've been there, I've spent a good amount of time in San Giovanni Rotondo, I've seen everything and now, surely those feelings of being "called" would be out of my system; little did I know Padre Pio had other plans.
When Padre Pio is "calling" you, he is impossible to ignore. Again, I went back to San Giovanni Rotondo, this time for one month, and then two months and so on. Now I am spending about seven months a year there and wishing it could be more.
Padre Pio seemed to always be with me, always calling me, always bringing me closer to him and to Our Lord and Our Blessed Mother. I could not understand why Padre Pio wanted me because; I was a sinner, I lived in Hollywood and New York, I lived in what one would call the "fast lane," keeping company with Hollywood celebrities and the world's social elite. Flying in private jets, riding in limousines, staying in four star hotels; my life was surrounded by glitz and glamour, I lived in a very material world and I thought I was happy there.
Do not get me wrong, I always believe in God, the saints and the Catholic Church. I prayed, attended mass weekly and went to confession but something was missing. When I came to know Padre Pio, I came to know real faith and the meaning of love. Love for our brothers and sisters; learning that all of us are put here to serve and love one another. Through Padre Pio I found true happiness and joy in my life.
I have endless love for Padre Pio. I have endless faith in Padre Pio. I have endless devotion to Padre Pio. On several occasions, I have seen and experienced firsthand Padre Pio's intercession. All is possible with the help of Padre Pio.
I am most happy when I am spreading the name of Padre Pio to others. When I am in San Giovanni Rotondo, it gives me great joy to show people the places that Padre Pio lived, worked and prayed for fifty years. I am thankful for the many graces I have received from God through the intercession of Padre Pio.
In life, we must all be evangelists, spreading the word of God to our brothers and sisters. My television program on Tele Radio Padre Pio, "Hello from San Giovanni Rotondo", makes it possible for me to reach out to the English speaking people throughout the world. It is gratifying for me to read the emails from people who have seen the show and have been touched, and it is most humbling when they have asked me to remember their intentions, in my prayers to Padre Pio.
Not all intentions for a miracle are granted, if that were the case, miracles would not be anything special. What I do know is that maybe we don't receive exactly what we ask for, but what we do receive is the strength, courage and peace to deal with the road that God has chosen for us. Padre Pio shows us through his example that faith and trust in God is the only way and to pray, pray, pray."